Sweaty Feet (Hyperhidrosis)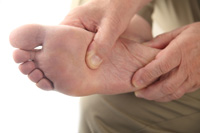 Definition
It is fairly common for feet to sweat and sometimes they even smell. Some people sweat too much and constantly. This can be uncomfortable and awkward. Hyperhidrosis is the name given to sweating too much. The sole of the feet have the largest area in the body for sweat glands.
There are many reasons the feet may sweat a lot. Some common factors are stress, hot weather and hormonal changes. Sweat that becomes stale may have a bad smell. If your feet have an obvious bad smell then you may have a bacterial infection (bromhidrosis).
Treatment
There are many reasons that cause sweaty feet. The reason is not much of an issue but it is necessary to identify the cause. If the problem is not too bad then a good daily foot care routine will help significantly. Washing and drying feet thoroughly everyday; changing socks daily and alternating shoes so they have time to dry out will help. We advice you to not use talcum powder or deodorant sprays on your feet as they can aggravate and worsen the issue.
If hyperhidrosis is severe then a Podiatrist will be able to help determine the cause and help address the issue.
We offer a variety of treatment options to treat sweaty feet such as specialist creams, foot baths and sprays